If the Boston Breakers hadn't gone 0-3 in their last three WPS games in 2009, I wouldn't be writing about what is perhaps the most unlikely championship in American professional women's club soccer history. Americans love a good underdog story, especially one that involves sports. Struggling with management and coaching changes, fighting to make the playoffs, and successively defeating each of the three higher-seeded teams in a Super-style playoff system, you might say that Sky Blue FC's run to the 2009 WPS Championship is one of those memorable—if not downright miraculous—sports stories. If you are a longtime fan of women's professional soccer, you might remember it. If you don't, let me fill you in.
The Captain Becomes the Coach
Sky Blue had three different head coaches during their inaugural 2009 season. First was Ian Sawyers, who was also General Manager. He opened the season with one win, three losses, and two ties. Kelly Lindsey was brought in after Sawyers was fired, and the team fared a bit better under her, recording five wins, four losses, and three ties. After Lindsey resigned, with only two matches left to play in the regular season, management decided to name Captain Christie Pearce head coach, making her the first player/coach in the history of American women's professional soccer. Mike Lyons was brought in as her assistant coach. Pearce had a 1-1 record in those final two regular-season matches, which was good enough to clinch a playoff spot. Including the playoffs, her overall record was 4-0-1.
Gerry Marrone, the General Manager who was Sawyers' successor, oversaw the change from Coach Lindsey to Coach Pearce. He shared the story of how the change took place.
The day that this change took place was an interesting one.  I was dealing with a personnel issue early in the day and I thought that Kelly was going to resign.  Because of the way things were unfolding I went to the practice field to observe the team.  Interestingly enough Christie had just returned to the practice field but was not active as she was returning from injury.  The team was gathered when Kelly arrived, she walked up to address the team, turned to me and handed me her team computer, computer bag and letter of resignation for both her and her assistant coach (whom I had suspended earlier that morning).  The team was surprised – some reacted negatively and some positively.  It was pretty quiet for a couple of seconds.
Because of what had unfolded that week and earlier that day I was not necessarily surprised at what happened, but certainly at how it happened.  I expected we were going to be making a change and prior to coming to the field I met with then managing owner Thomas Hofstetter and suggested that if what I expected to happen actually took place we should ask Christie if she would do it – become player/coach.  We had been through a tough year from a coaching perspective and I didn't feel it made any sense to go out and bring in an outsider with only a few games remaining and us being out of the current playoff picture.  Thomas and I discussed it, and he had no hesitation with the idea.  He gave the green light.
Back at the practice field, as Kelly left, got in her car and drove away I looked at Christie and we walked a few yards down the field.  I asked her if she would run practice that day, and then come to the office so we could discuss the situation – I told her I had an idea that I wanted to run by her.  As was very normal with Christie – she didn't miss a beat and said no problem.  I addressed the team, explained the situation, talked about the events of the morning and told them Christie was going to run practice that day.  I told them not to worry, they were in good hands and we would have a plan by the end of the day.  Christie then took the reins, addressed her new team (not officially yet), put them at ease and got on with business.
When Christie came to the office a couple of hours later I asked her if she would consider being the player/coach.  With literally no hesitation she said yes immediately.  We discussed bringing someone in to help her and she made a suggestion of whom that could be and we moved forward.  It was a crazy day, but we were on our way to a championship when she left the office that day. ~ Gerry Marrone
And just what kind of person does it take to take on the dual responsibilities of captain and coach? Well, let's just say that sharing a nickname with a superhero isn't a bad sign.
Christie was clearly the key to all of this happening.  Throughout the season she was herself – Captain America.  She is one of the most natural born leaders I have ever seen.  Christie brought in Mike Lyons as her assistant, and between the two of them I think they did two things tactically – the kept it simple and played to the strengths of the players we had. Christie was always the on-field leader – and Mike was a great motivator on both the practice fields and the sidelines.  I think Christie would tell you this was all new for her – watching films from a different perspective, planning for the matches from all angles – not just defensively.  I think she was enjoying it too.  I still believe she will be the coach of the national team one day.
~ Gerry Marrone
The decision to turn a captain into a coach set off a chain reaction that lead to Sky Blue hoisting the trophy. With a newfound freedom, the team was able to, as Marrone called it, "play simpler." Players who had once been shoehorned into playing a more American style were sudden set free to bring their uniqueness to the game.
On the field I think Christie and Mike made the game simpler.  They put players in positions that were best suited for their abilities and played to their strengths.  Two good examples of this were Franciella (Fran) and Rosana – our two Brazilian players. Rosana was and still is a star of the Brazilian national team, and was classic Brazilian – played with flair and personality.  She scored a half-volley goal earlier in the year that made my eyes bulge watching it.  Under the previous coach Rosana was being held back – forced to as she told me, "play like an American".  Christie and Mike set her free to play like a Brazilian and it paid dividends.
~ Gerry Marrone
Pearce remembers the season and the offer to become the coach. The "no-brainer" decision might have scared off another player but not Pearce.
I think 2009 was a difficult season for Sky Blue, and then, when the role was asked of me to become coach it was a no-brainer. Because I knew at the time the team needed someone who believed in them and that wanted to take it on, and at that point, it'd be tough for a coach to come in and actually understand the personalities and kinda everything that was going on that season. So, it was a no-brainer for me to accept that role and then just have the team, you know, come together and kinda buy in to the same system and just enjoy it and have fun. And I think you could see that within the team and the dynamic of how we went from almost last to first and winning that championship. But I enjoyed it; I loved it. The team was awesome. No egos on that team, so it was amazing to coach. ~ Christie Pearce
Natasha Kai, a Sky Blue forward, remembers what it was like to play with Christie, first as a captain, then as a coach and captain.
I lived with her, so I got to experience her, not only as a captain on the team and our player/coach, but I also got to get close to her off the field. You know she's one of my role models. I'm sure she's a role model for a lot of people around the world, especially in America, but you know she's a good example of, you know, everything. Mother, coach, friend, um, and I learned a lot from her over the years. And I'm very fortunate to be back here, you know, many, many years later and still being able to play with her. ~ Natasha Kai
The Team
A coach cannot be a coach without a team. The team put together in 2009 blended national team players from four different countries: the United States, Brazil, Canada, and Australia, with some young talent and experienced players to create a team that could bond together and win.
This is the team that suited up in the playoffs.
Jenni Branam stood in goal for Sky Blue for 16 games and had an impressive .97 GGA, while having six clean sheets to her name—two in the playoffs. Only two goals got past the Sky Blue goalkeeper in the last two games of the regular season and the three playoff games. England Women's National Team goalkeeper Karen Bardsley was the backup goalkeeper.
Jen Buczkowski, recently retired from FC Kansas City of the NWSL, was joined by Keeley Dowling, Meghan Schnur, Julianne Sitch, and Christie Pearce to form the defensive unit.
The Sky Blue midfield was home to the likes of Kacey White, Yael Averbuch, Francielle, Kelly Parker, Noelle Keselica and Collette McCallum. Francielle scored the game-winner over Washington in the 85th minute of the Super Semifinal.
The midfield's play gave the team a chance to get the ball to a talented group of forwards. Heather O'Reilly (FC Kansas City fans will know that name as well as they know Buczkowski and Averbuch), Natasha Kai, Rosana, Kerri Hanks, and Katie Hooker formed a formidable attacking unit.
But it wasn't always the players that suited up that made an impact. As Gerry Marrone explains, sometimes it was the third-string goalkeeper (also serving as equipment manager) who got the team motivated and ready for action.
I think there was another intangible we had – Shannon Myers.  Shannon was our third goalkeeper behind Jenni Branam and Karen Bardsley.  She was what was called at the time a Developmental Player and also served as the equipment manager.  However, she was so much more.  Shannon was a motivator.  From what I heard (because I was clearly not in the locker room) Shannon was a driving force and frequently did pre-game speeches to the team. I got to know Shannon more following this season and I can tell you she is simply one of the highest quality people you will ever meet, and I have no doubt she was a key factor in this championship run. ~ Gerry Marrone
Natasha Kai, back for the 2016 season after a few years away from the game of soccer, remembers how her team managed to come together to take home the title.
I mean, the beginning of the season – you know – you can't even write a book about that. But I think as the months went by, we kinda molded together and glued ourselves together, and we were all tuned in to realize, hey, we're the Bad News Bears. Anything is possible. We just needed each other's backs. And slowly, game by game, we started winning. And we were like, you know what, we might as well just take home the championship. Every game was a challenge, but every game we got closer and closer to the championship game.  We made it to the championship game and, you know, we were like, hey, we're here we're here; we might as well win the damn thing. So, we did. ~ Natasha Kai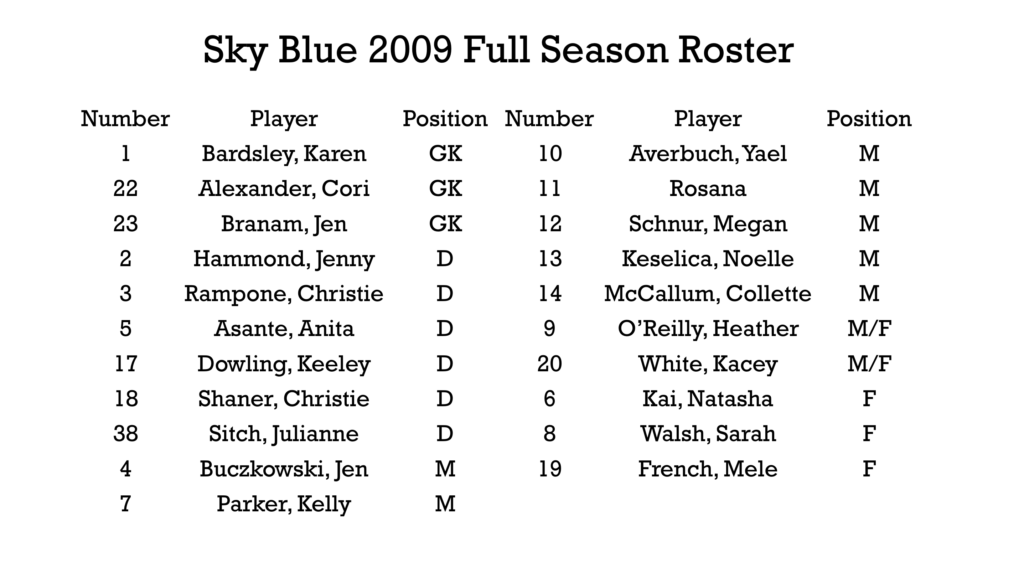 Pack for L.A.
The WPS playoffs were like nothing NWSL fans have seen. The 4th-seeded team from the regular season played the 3rd-seeded team, the winner went on to play the second-seeded team, and the winner of that game played the first-seeded team for the title. Three road games for the 4th-seeded Sky Blue team posed a daunting task.
It definitely was a challenging format, but we kinda understood the format because it made regular season play that much more important and effective. But you know, we just had basically gotten to that fourth place spot in 2009, and you know it was tough, but it was rewarding and motivating and challenging, but I think it made the team stronger with each victory, and you kinda felt that momentum. So, I think it actually benefited us, coming from the bottom to the top. At that point you have nothing to lose, and you're on the road, and you're getting stronger as a unit, and I think it helped us through that victory in 2009.
~ Christie Pearce
Sky Blue first headed down to Washington, then on to St. Louis, and finally to Los Angeles. On a map, it almost looks like fate was taking Sky Blue out west, little by little, towards their own manifest destiny.
One of the most memorable moments of this run happened a couple of days before the playoffs began.  The way the schedule was laid out – if we won on the road in Washington on the Saturday we needed to go straight to the airport to board a plane for St. Louis to play on Wednesday.  If we won in St. Louis we had to fly directly to Los Angeles for the final on the weekend.  The players were all asking how this was going to work, and there was some general confusion mixed with excitement.  There was a team meeting in the office with the team and staff to discuss logistics and Christie stood up and made one very clear statement – PACK FOR L.A.!  That became the rallying cry for everyone – we were going all the way and when you got ready to board that bus in NJ for DC be prepared for the week – we were going to L.A.
~ Gerry Marrone
Sky Blue wanted the players to know that the whole organization was behind them. So they came up with a unique way to show the players that they were thinking about them.
In the office the staff – led by our PR Director Gloria Averbuch (yes, Yael's mom) developed a plan to show the players we were all behind them.  We held a drawing in the office where each staff member and volunteer selected the name of a player out of a hat – similar to what you do for a secret Santa.  We then prepared a gift bag for each player with things that would remind them of the season, the struggles and the goal – to win the Championship.  These bags were to be delivered to each player as they were boarding the bus to leave for Washington.  The entire staff met the team bus to help load the luggage and have a proper send off.  We gave out the gift bags.  ~ Gerry Marrone
Game 1: Washington Freedom
Going into the game on August 8, 2009, Sky Blue had not beaten Washington that season, and they had only drawn them once, with the scores of the three games being 1-2, 4-4, and 1-3. The 1-3 loss to Washington had happened only the week before.
Sky Blue needed to figure out how to shut down Lisa De Vanna and Homare Sawa, along with Abby Wambach, who was back after suffering a broken leg, while also managing to score against future USWNT captain Becky Sauerbrunn, future World Cup champion Ali Krieger, USWNT defender Cat Whitehall, draftee Becca Moros, and Canadian goalkeeper Erin McLeod.
The first half of the game saw both teams enter the locker room scoreless. But in the 54th minute, Natasha Kai was brought on for two-time MAC Hermann Trophy winner Kerri Hanks. Less than a minute later, she scored the first goal of the match. Not to be outdone, Lisa De Vanna ripped one past Branam in the 78th minute. Pearce went to her bench and selected Francielle to replace Collette McCallum. Francielle, who had only played six games with Sky Blue at that point, scored the game-winner in the 85th minute.
Game 2: St. Louis Athletica
On August 19, 2009, Sky Blue faced the second-seeded St. Louis Athletica. They played the Athletica three times in the regular season. They lost each time. Now they had to play the regular season runners-up in St. Louis in order to advance to L.A. for the final.
The St. Louis Athletica boasted one of the best goalkeepers in the world—both in 2009 and 2016—in Hope Solo. Their star striker, Englishwoman Eniola Aluko, netted six goals and assisted on four others during the season. Future NWSL captain for the Chicago Red Stars, Lori Chalupny, was their captain and a scoring threat in her own right.
The winning goal was slotted past Hope Solo in the 30th minute by a defender, Keeley Dowling, who had never scored before as a professional soccer player. Yael Averbuch assisted. Just one more unexpected feat from the team that wouldn't quit.
Just as Christie Pearce predicted, they were going to LA. But not before a few moments of team bonding happened. One moment during the travel sticks out to Marrone more than the others.
After we won in St. Louis on Wednesday we had to fly to Los Angeles for the final.  Because the travel plans were so last minute we couldn't get everyone on the same plane.  We all went to the airport, along with all of our equipment and hunkered down in the terminal while we split the travel party in two.  Shannon Myers traveled with her guitar, like we needed even more luggage!  Imagine a crowded airline waiting area littered with soccer players all sitting on the seats and floor.  Luggage and bodies everywhere.  Shannon pulled out her guitar and starts playing Jason Mraz's "I'm Yours" – first just the music, then she starts singing softly.  A couple of the players start singing along.  A gentleman that was traveling somewhere else sees what's going on.  He asked me who we were and where we were going and I explained it to him quickly. He pulls out his Ukulele and joins in. Before you know it there are about 30-40 people singing along in the terminal with the Sky Blue women.  Even as I write this now I'm smiling and tearing up thinking about the memory – it was special. ~ Gerry Marrone
Game 3: Los Angeles Sol
The Los Angeles Sol was possibility one of the greatest women's professional teams ever put together. A look at the lineup for the final shows just how solid they were from tip to tail. Canadian goalkeeper Karina LeBlanc led a backline that gave up only 9 goals all season. Manya Makoski, Brittany Bock, Allison Falk, and Stephanie Cox stood in front of the keeper on her backline. Japan's Aya Miyama, USWNT players Aly Wagner and Shannon Boxx, and McCall Zerboni created a dynamic midfield. Marta, considered by many the best attacking player in the world at the time, and China's Han Duan started as their forwards.
The final game took place on August 22, 2009. The 80-degree weather set the stage for a battle of the ages. Sky Blue had come this far, and they would not be denied.
We should get this out of the way. Sol defender Allison Falk received a red card 27 minutes into the game for denying Natasha Kai what was considered by the referee to be an obvious goal scoring opportunity. For 63 minutes—not including stoppage time—The Sol was forced to play a player down. Playing down for that long would be a disadvantage to any team. But games are not played on paper, and calls are made by humans. Sometimes that is just the way the ball bounces.
The game-winning goal was scored in just the 16th minute by Heather O'Reilly, assisted by Natasha Kai.
It was the first goal that Sky Blue had ever scored against the Sol.
O'Reilly is no stranger—then or now—to scoring or assisting game-winning goals. Three other instances spring to mind from her professional career. In 2004, her game-winner against Germany in the Olympic semifinal sent the USWNT to the gold-medal game, where they reclaimed the Olympic title after their loss in 2000. In 2012, her cross in the Olympic semifinal to Alex's Morgan's head for the game-winner over Canada became the stuff of legend. And bringing it back to club, her assist on Amy Rodriguez's goal in the 2015 NWSL final saw her club, FC Kansas City, beat out the Seattle Reign for their second-straight title. 
Just a reminder, the only three teams that Sky Blue hadn't beaten in the regular season were the ones they defeated in each of the playoff matches. When they did so, they joined the Sol as the only two teams in the league to have beaten each of the other teams. Kai summed up her feelings about what it was like to step onto the field against the Sol and to beat them.
Stepping on the field, I think we already beat all the odds on making it, and like I said before, the excitement was there, all our emotions were there, and, you know, with all the crap we'd been through, through that whole 2009 season, it felt good to walk on the field as the underdogs and then walk off the field as champions. And, you know, that's the best feeling ever, knowing that nobody had our backs except for the 22 of us and our ownership and everyone involved with Sky Blue. And bringing home the trophy was the exclamation mark to everything. It was us against the world and we overcame that. ~ Natasha Kai
Christie Pearce did not only coach the final game, she also spent 90 minutes shutting down Marta—something that very few defenders have ever been able to do. She shared her thoughts on what it was like to accomplish what the team set out to do.
It was pretty rewarding, you know, to know that A) you're capable of doing that and B) your team respected you so much and bought in to each and every game plan through the playoffs. It was pretty amazing. And then to beat a team like L.A. Sol, who were just stacked and loaded and, you know, on paper were much better than us. But you know, just shows that if you put a good team out there on the field that are working together, united, it's hard to break down, and you saw that in the championship game. ~ Christie Pearce
Gerry Marrone shares the story of the Sky Blue after-party and how he came to learn that his championship-winning player/manager was three months pregnant—something that was unsurprisingly not public at the time but only served to add to the legend of Coach Pearce.
Thomas Hoftstetter (Managing Partner) traveled out for the game and we met in LA.  His first order of business after making sure the team was OK was to go find a place for a party after the final.  We discussed the budget and how we wanted to stay within a certain dollar amount.  We drove along the coast not far from Home Depot Center (the name at that time of the stadium) and looked [at] a few places.  We came across a place that had an upstairs patio/deck area that they would give us – it was on the beach and facing the Pacific Ocean – a perfect ending to a rather tumultuous season.  We established a budget for the party – the staff was going to notify me when we were getting close to the number and we could shut it down and move to an open bar where people could pay for their own drinks.  And according to Thomas – "win or lose we are going to celebrate this season!"  And we did.
Obviously we won and the place was rocking.  Abby Wambach came by as well as several other "stars" to join in the celebration.  The trophy was a very large cup – and it was being used as such and passed around – as we all celebrated into the night on the beach.  Within the first 90 minutes the hostess found me about the bill – we were already approaching our limit.  I looked at Thomas and simply shrugged – meaning what the hell – we came this far and won – keep it going.  As we approached closing time I was sitting at a table with Christie, her husband Chris and several of their friends and Christie asked to talk to me.  I couldn't imagine what could possibly be up. 
That's when she said, "I wanted to speak with you about this later, but because the players now know I wanted to tell you.  We were celebrating the win in the locker room", to no credit of us – I completely dropped the ball and was not prepared with Champagne for after the game.  It wasn't because I didn't think we would win – I really thought we would, but it just never occurred to me.  What a massive fail on my part. 
Christie continued, "I had to tell the girls I'm pregnant – it was the only way to explain why I wasn't taking a drink"!  Christie was not only pregnant – she was pregnant enough the doctor was going to shut her down if the season had lasted even one more week.  If you think back to that injury Christie had around the time we appointed her player/coach she was having some complications from her pregnancy that no one knew about.  Now, after 90 minutes of completely shutting down Marta – the undisputed best player in the world at the time, she was telling me this.  I couldn't believe what I was hearing.  ~ Gerry Marrone
Ownership That Believed
A winning team needs ownership that is willing to support them in both good times and bad. In the 2009 season, Sky Blue saw plenty of both. As General Manager, Gerry Marrone worked closely with the ownership, and it was his duty to help steer the ship.
Thomas Hofstetter was the Managing Partner and whom I worked with on a day-to-day basis.  Francesco Prandoni, Steve Temares and Phil Murphy – who just today announced he is running for Governor of New Jersey, made up the group.  Throughout this season we lost more money than they ever had projected.  There were many reasons for this, but it never impacted the desire to succeed and win a championship. In fact, during this run to the Championship they gave me the approval to travel with the entire team – all 22 players, plus Shannon the Equipment Manager.  Even though we could only roster 16 for the games they permitted everyone to travel as a team.  During the season when you traveled only the rostered players would make the trips to manage expenses more efficiently.  I honestly believe this made a considerable difference for not just team moral, but team unity. I don't think at the time the players clearly understood what we did – but I think they appreciated it. ~ Gerry Marrone
Where Are They Now?
As with the current league, some players leave to have a second career after soccer, and some manage to hang around much longer. Of those that I could track down, here is where they are now:
At the start of the 2016 NWSL season, Pearce and Kai were both playing for Sky Blue, while Buczkowski, O'Reilly, and Averbuch all played for FC Kansas City. Pearce and O'Reilly both won gold at the 2015 Women's World Cup. Karen Bardsley plays for Manchester City of the English FA WSL and is the number-one goalkeeper for the English Women's National Team. She helped the Lionesses win the bronze at the 2015 Women's World Cup. Rosana plays for PSG in Division 1 Féminine. The sport of soccer said goodbye to Buczkowski in 2016. She retired mid-season to attend the physical therapy school at the University of Kansas Medical Center.
Several players coached after finishing their time as a player or stayed in the soccer world in another capacity. Kerri Hanks coached at Texas Christian University. Collette McCallum is the assistant coach of the Perth Glory's Women's team. Keeley Dowling is the assistant coach at the University of Texas at Austin. Casey White is the Capital Area Soccer League Older Girls Director. 
Some left soccer for other dreams. Cori Alexander founded Cori Alexander Photography and found a second career as a photographer. Jenni Branam left soccer in 2011 to become a nurse.
The Legacy
Calling a team "the most unlikely champions in American professional women's club soccer history" is not a something I do lightly. FC Gold Pride went from bottom of the table in 2009 to top of the table in 2010 and became the 2010 WPS champions. But they dominated the 2010 season, before folding ahead of the 2011 season. None of the WUSA or NWSL champions would really be considered unlikely; neither would the 2011 WPS champs, the Western New York Flash. Unless a future NWSL champion somehow manages the upset, the title belongs to Sky Blue.
Natasha Kai called the team the Bad News Bears. She's not wrong. Few people would have wagered at the start of the season that Sky Blue would scrape into the playoffs. Fewer still would have predicted that they could beat the three other playoff teams—none of which they had beaten before—and come out champions.
This team of unlikely champions proved that it doesn't always matter if a team gets off to a fast start—it's the process of building through the season, adding bits and pieces as you go, that can lead to a place in history. Christie Pearce told them to pack for L.A., so they did. And after they'd won, they had one more t-shirt to pack.